What is the history behind Jaisalmer?
Jaisalmer is a world heritage site, founded by Raja Rawal Jaisal in 1156 AD. This was a famous trade route between Persia, Egypt, Africa and West. Jaisalmer has always been a strong shelter for the Rajput Clan and even the Britishers had to face a lot of pain to conquer Jaisalmer.
Jaisalmer is one of the most attractive tourist destinations of Rajasthan due to its rich culture, heritage and the Golden Fort.
What to See?
Jaisalmer Fort
With almost 3000 people residing within it, this Golden Fort of Rajasthan is a unique piece of craftsmanship. The fort is honeycombed, with narrow winding lanes. The fort is a city in itself with several houses, temples, shops and restaurants.
Read More: Know About the Interiors of the Palace on Wheels
Sam Sand Dunes
This is the best place for excursion at Jaisalmer. Spend some serene moments at the camps of Sam sand Dunes or enjoy fun rides on camels through the golden sands of Thar.
Read More: Experience of Royal Lifestyle of Raja-Maharajas in Rajasthan
Gadisar Lake
The Lake was built in the 14th century to meet the water requirements of the locals. This is another abode of peace at Jaisalmer, encircled with small temples.
Also Read : Top 10 Largest Lakes in India
Jain Temples
As you approach the seven yellow sandstone Jain shrines, devotion evokes from within the soul. These are 12th and 15th century shrines which come with intricate carvings.
Also Read : 20 Most Famous Jain Temples in India
Mandir Palace
The prime feature of this mahal is its pagoda like Tazia Tower; each floor of the palace has a beautifully designed balcony.
Desert National Park
Want to witness the ecosystem of the desert? Visit this park which is carefully designed with undulating sand dunes, dense salt lakes bottoms and a safe shelter for the endangered species of Great Indian Bustard, variety of Himalayan and Eurasian raptors, black bucks, chinkara and desert fox.
Also Read : Top National Parks and Wildlife Sanctuaries in Rajasthan
Kuldhara
The ruins of Kuldhara village come with spellbinding architecture; as the setting sun casts its shadow on this isolated hamlet, peace sets into the mind and soul of the tourists.
Patwon ki Haveli
This is one of the biggest towers of Jaisalmer; carved with intricate stonework and lined with honey colored lace. It also has a museum where you can find relics of 19th century life. The paintings and mirror work of the Haveli are of unparalleled beauty.
Tanot Mata Temple
Located almost 120 KMs from Jaisalmer, Tanot Mata is an incarnation of Goddess Hinglaj.
Also Read : Top 10 Temples in Rajasthan you Must Visit
Fairs and Festivals
Jaisalmer is famous for its colorful fairs and festivals. Fairs and festivals are also the best way to know the rich culture of any place.
Desert Festival is the primary festivity of the city. It is celebrated in February; major attractions being camel races, folk performances and puppet shows.
Also Read : Famous Festivals and Events in Rajasthan
What to Eat?
Rajasthan is a state of spicy cuisines and Jaisalmer is not an exception. Food is mostly vegetarian and Dal Baati Choorma is the best of all. A blend of salt, ghee, wheat and sweet, this is a must try. Ker Sangri is a delicious curry which goes well with bajra roti. Gatte ki Sabji is rich in taste and is served with rice or chapati. Craving for some non-vegetarian dishes? Relish spicy laal and safed maas, dipped in yoghurt. The platter ends with Makhania Lassi.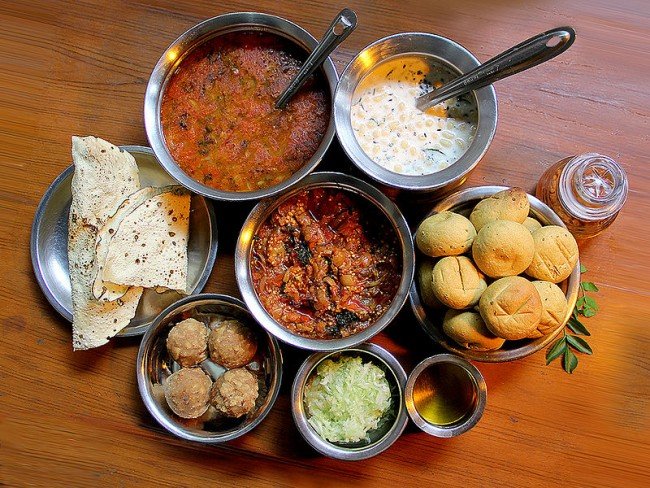 What to Shop?
Jaisalmer is a treasure house of boutique apparels, home decor and silver jewelry. The colorful silk fabrics of Jaisalmer are embellished with mirror works. Handicrafts are carved with intricate stone works while the decorated jootis compliment the colorful Rajasthani attire. Enjoy puppet shows at the local markets or adorn your hands with beautiful mehendi designs.
Also Read : Top 10 Colourful Markets in Rajasthan
Checkout the fares of Palace on Wheels Train
How to Reach?
Considered as one of the tourist hotspots of Rajasthan, Jaisalmer is well connected with other parts of the country.
Get Complete Guide : How to Reach Rajasthan
Travel to Jaisalmer via:
Road
There is an excellent road connectivity from the nearby cities to Jaisalmer. You can rent cars from any of the nearby cities of Delhi, Mumbai, Kolkata, Jaipur, Jodhpur, Udaipur, Chittorgarh or Sawai Madhopur to reach Jaisalmer. There are ample number of buses available through these regions which can take you to Jaisalmer.
Rail
The Jaisalmer railway station is just 2 KMs from the main city. A wide railway network connects the city to the other parts of the country. Want a luxurious journey to Jaisalmer? Book a reservation on the luxury train, Palace on Wheels and explore Jaisalmer along with the other parts of Rajasthan.
Checkout the Route Map of Palace on Wheels Train
Palace on Wheels is a luxury train which runs through Jaisalmer. Visit to this city falls on the 5th day of the tour. After visiting Udaipur the train leaves for Jaisalmer by 3 pm. The train reaches Jaisalmer next day, at around 9.30 am; after exploring this UNESCO World Heritage Site guests return to the train by 10 pm and leaves for Jodhpur.
View the Palace on Wheels Itinerary
Air
The nearest airport to Jaisalmer is located at Jodhpur, which is around 300 KMs from Jaisalmer. You can land at Delhi, Kolkata or Mumbai international airports and then get a connected domestic flight from there to Jodhpur. There are private cars available at Jodhpur airport which directly takes you to Jaisalmer.
So see the land of fairytale live in front of you at Jaisalmer, experience opulence travelling over the Palace on Wheels and witness the same at the palaces, castles and temples of the city.
Read more related articles of Palace on Wheels: