A UNESCO World Heritage Site – the Amber Fort popularly known as Amer Fort dates back to the 16th century and has an interesting story behind its name. Named after the Goddess Amba, the Goddess of Earth & Fertility the mighty fortress was originally created by Rajput Raja Man Singh -I. There is a scenic reflection in the calm waters of Lake Mahohta as you approach the historic palace.
There are three methods to enter this magnificent Fortress
A climb of steps that takes roughly 20 minutes – Entrance through Suraj Pol.
A ride on a decorated elephant (only till noon) – Entrance through Suraj Pol
By vehicle – Entrance through Chand Pol.
The fortress cum palace was originally made from red and white sandstone way back in the 1550s. However, as and when different rulers ruled over the region, there were changes and betterment made to this palace over the next 150 years. This magnificent fort stands on a hillock overlooking the capital city of Rajasthan – Jaipur. After the Great Wall of China & the famous Kumbhalgarh, the Amber Fort is the 3rd Largest Wall in the World.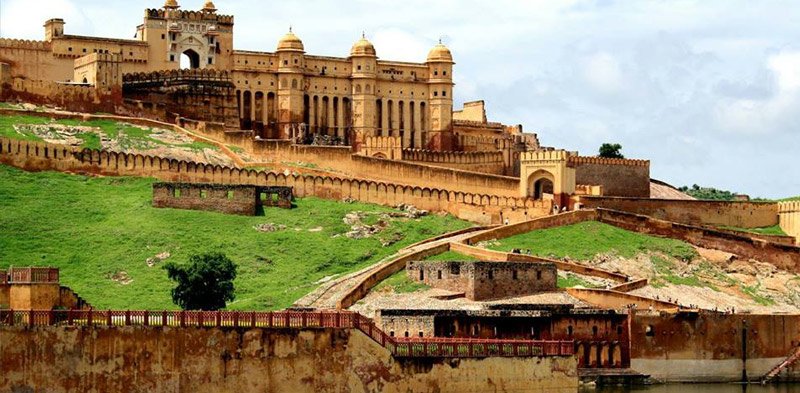 Also Read : How to Book Palace on Wheels Train
Must Know :
Amer Fort Timings/ Shows/ Best Time to Visit
Due to its immense popularity, there are nearly 5000 visitors to this busy fort each day which is open from 8.30 am to 5.00 pm. You may want to participate in an exciting Balloon Ride Safari to see the areal view of Jaipur / Amber Fort. There are two interesting sound and light shows held in English and Hindi languages every evening that last over an hour. The best time of the year to visit the magnificent fort is between thee months of October to February. (Summer gets hot and monsoons give trouble.)
Major Attractions – Must See @ Amber Fort
Singh Pol – Lion Gate Entrance
Suraj Pol – Sun Gate
Chand Pol- Moon Gate
Jaleb Chowk – First and Main Entrance
Sheesh Mahal -Glass Palace
Shila Devi Temple- Kali/ Shakti Temple (Timings: 6:00 am to 10:30 am / 4:00 pm to 8:00 pm)
Ganesh Pol – Entrance with Ganesh mural
Diwan-e-Aam – Hall of Public Audience
Jai Mandir – Temple of Victory
Diwan-e-Khaas – Ministers/ Officials Courtyard
Yash Mandir – Temple of Luxury
Sukh Mandir – Palace of Happiness
Tripolia – Triple Entrance Gate
Zenana Deorhi – Ladies Quarters
Baradari – King's Pleasure Pavilion
Suhag Mandir – Hall for married women to celebrate/ perform rituals.
Other Fees & Charges/ Services/ Activities
Entry Fees
Audio Guide
Still Photography Fee
Video photographing fee
Anokhi Museum is a beautiful place that display exquisite Indian textiles. There are special motifs designed on the fabric that tells about the social status. You may indulge in shopping at the museum shop but the diversified display of traditional fabric is worth the trip. You may want to spend a couple of hours exclusively for this museum. Even the outer house of the museum is a lovely place.
The Amber Fort takes at least an entire evening or daytime to visit all corners. This is one of the favorite destinations for luxury travel in India. Amber Fort is listed as one of the landmark destinations on the Palace on Wheels itinerary. It makes an excellent family/ friends outing spot.
Other Related Information of Palace on Wheels
Read more related articles of Palace on Wheels: